The Magnificent Magyar Miners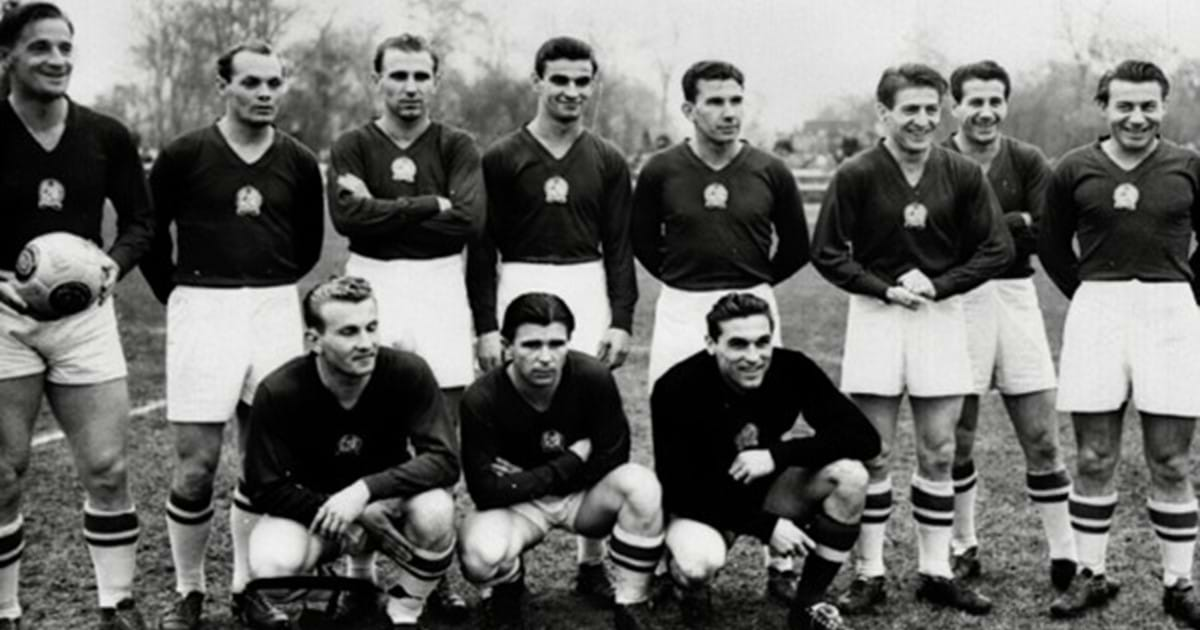 BY BOB McDONALD
The Magnificent Magyars was the name given to the Hungarian national football team of the 1950's.  In their own country they were called Aranycsapat (the Golden team).  They were Olympic Champions in 1952 and World Cup runners-up in 1954.  The team's new brand of football inflicted the first home defeat on England by a team from outside the British Isles.  In the 1950's Scotland fared no better with two defeats and a draw.  This is the story I uncovered of another Hungarian team managed by one of those Magnificent Magyars that visited Scotland to play the Scottish Miners Junior team in 1963.
Prior to the "lockdown" in March 2020, there was a weekly Thursday meeting of football fans at Hampden Park.  The majority of them are volunteers on the Scottish Football Memories project.  The objective of the project is to help sufferers of Dementia and Alzheimer's by stirring memories of their interest in football.
Each week, subjects or personalities are discussed and it was at one such meeting the name Joe Nelson was raised.  Joe Nelson was a highly respected individual by Dunfermline Athletic FC and the SFA.  In his CV reference was made to him being captain of a Scottish Miners' Junior Select team from the five Scottish National Coal Board (NCB) Areas to play a Hungarian miners' football team.
Having played Fife Junior football in the mid-1950's myself and worked in the NCB Fife Area from 1955 to 1961, this prompted me to start researching this particular visit.  My first contact was Ron Ross, ex Secretary of the Fife Junior Association who was able to put me in contact with John Nelson, Joe's son who lives in Rosyth.  John, as a very young boy, remembered watching his father play as captain of a football team at a Scottish Miners' Gala game but was unsure of the year.  The annual Scottish Miners' Gala was held in May at Holyrood Park in Edinburgh and attracted large crowds from the Scottish mining communities.  One of the events was a football match between the Scottish Miners' team and a side representing an English or Welsh coalfield.  The Scottish team was selected from NCB employees who were registered with the Scottish Junior Football Association.  I had not heard of international opposition.  John knew it to be in the early 1960's.  He remembered a story his father told him:
 "Joe had been injured in a game, playing for Lochore Welfare, prior to the Miners' Gala game against the Hungarians, and allowed treatment at East End Park, Dunfermline.  One evening, the physio had made Joe's visit known to Jock Stein, Dunfermline Athletic's manager, and he came to speak to Joe.  His parting words were "anyone who is captain of any Scottish team must be very proud"".
No doubt, Jock Stein's own background as a miner and footballer had been the reason for him to ask about the game against the Hungarians.
John Nelson told me the Hungarian shirts had badges on them attached by studs which allowed them to be handed to the Scottish players as souvenirs.  Unfortunately, his Dad's souvenir had been lost.  However, John's sister had kept the gift, a cigarette lighter, her father had been given by the National Union of Mineworkers for playing in the game.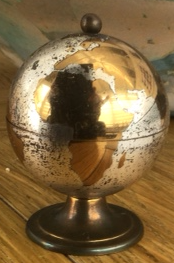 The globe cigarette lighter presented to each of the Scottish team - with thanks to Derry Wallace
Richard McBrearty, the Scottish Football Museum Curator, was very helpful in the next stage of the research.  He had found an article in the Irvine Herald dated the 25 January 1963 referring to the proposed visit, albeit this was four months before it happened.
The article mentioned that three games had been arranged for a team of Hungarian miners, one being at the Scottish Miners' Gala and another against an Ayrshire Junior Select team two days later.  There was no information about the third game.
Having established the month and year of the visit as May 1963, I was able to find out from newspaper archives that the Hungarians had indeed played three games in Scotland.
At that time in my research, by far the most useful information came from an approach to the Hungarian Consulate in Edinburgh and assistance offered by Consul Tibor Csaba Szendrei.  A reply to his request from the Hungarian Football Authority in Budapest contained newspaper articles from Nepsport (People's Sport) articles from the National Museum of Sport and Olympics.
According to these reports, the Hungarian team left Hungary on 30th April 1963.  The coach/trainer was Jenő Buzánszky, who played 48 times at right back for the Magnificent Magyars in the 1950's.  At the time of the visit to Scotland he was manager of Dorogi FC, the club at which he had spent all his playing career.  He sadly passed away in 2015 and was the last surviving member of that great team.  Today Dorogi FC's ground is named after its most famous player.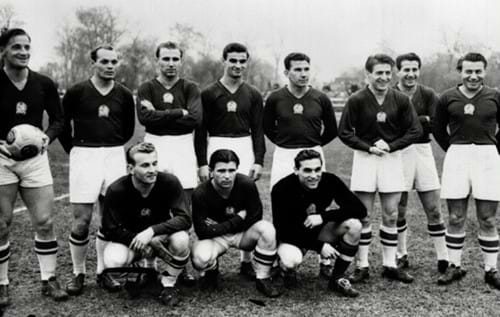 The Magnificent Magyars in 1954 - Jenő Buzánszky is standing second from the left
I discovered that in early 1962 the National Union of Mineworkers invited the club, that was then known as Dorogi Bányász (Dorogi Miners), to bring a team to Scotland to play the Scottish miners in 1963.  They were a strong team and in the 1962-63 season finished in fourth place in the Hungarian First Division (Nemzeti Bajnokság I).  Shortly before their departure it became clear that several players would be required to travel with the Hungarian national team to play Sweden on 5 May 1963 and play in an international club game in Romania, both of which were due to be played during the time of the planned trip to Scotland.  To make up for the withdrawals Jenő Buzánszky invited players from the mining areas of Tatabánya and Komlói to join the party.  Both areas had first division clubs (FC Tatabánya and Komlói Bányász SK) at the time and I think it is likely the additional players came from these teams.
The 13 players were:
Tibor Takács, Gyula Tóth, István Tima Horváth, János Karába, Antal Szuromi, József Bartalos (from Dorog), Szabo, Juhos, Kovacs, Csaba, Muller, Paulik (from Tatabánya)and Lukcs (from Komlói).
The 1963 Gala programme listed a 16-man squad for the Hungarian visitors.  Csaba from the original selection was not included but four players, goalkeeper Laczkovits, Turai, Pilcz and Nyaradi, had been added.
The Hungarian visitors won all three games they played in Scotland:
1st May at Thornton, Fife, against Thornton Hibs who lost 1:0
6th May at Edinburgh in the Scottish Miners Gala against the Junior Select Team which lost 2:0
8th May at Gorebridge against Arniston Rangers who lost 3:0
The successful Hungarian team left Scotland on 9th May and arrived in Budapest, via London, on 11th May.
I contacted John Laing, Thornton Hibs historian, who sent me a photograph of the pennant, which had been presented by the Hungarians to the club at the game.  The badge of the Dorogi Miners is in the centre with the black and red stripes being the club's colours.  
The words "Bányász Szakszervezet Elnöksége" translate to "Miners' Trade Union Presidency".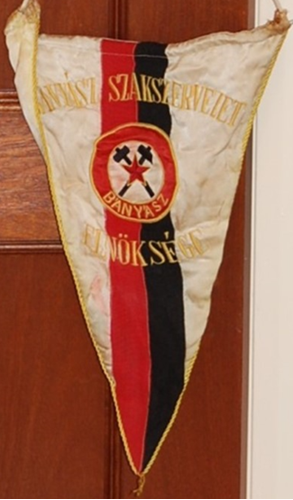 One of the oldest Thornton Hibs fans remembered watching the game as a boy at Thornton on the Wednesday evening.
The Curator at the National Mining Museum of Scotland in Newtongrange was very helpful and copied the articles from the May 1963 Coal News which described the Gala and showed a football action photograph of two Scottish players.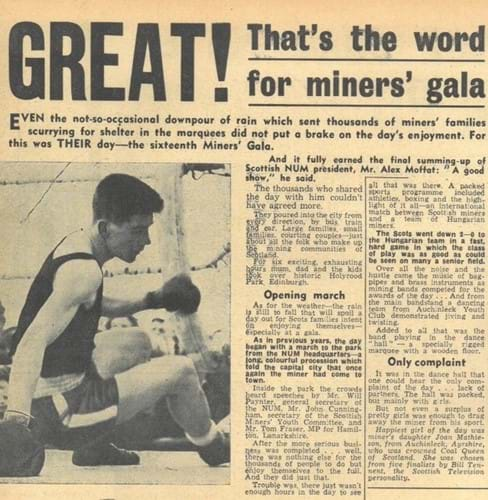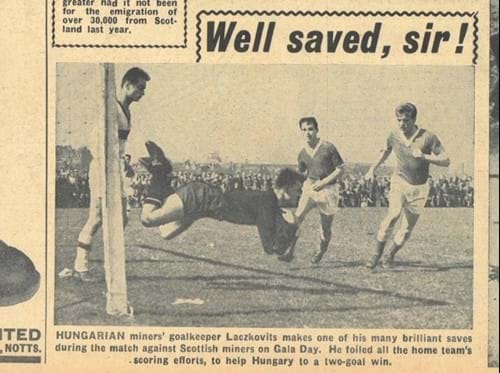 Coal News – Thanks to David Bell at the Scottish Mining Museum
The Hungarian defender is wearing the Dorogi Miners kit with a white shirt and horizontal red and black stripes across the chest.
My next task was to try and identify the Scottish players.  The second Covid 19 lockdown had stopped access to non-digitalised newspaper archives but circulation of the 1963 Coal News was seen by Derry Wallace who had recognised himself as one of the Scottish players in the photograph.  Derry Wallace was playing for Thornton Hibs and working at Bowhill Colliery at the time.  He sent me a newspaper article with a team photograph with the players' names.  He also sent photographs of the NUM letter regarding selection, the cigarette lighter referred to by Joe Nelson's daughter and one of three Fife players in the team.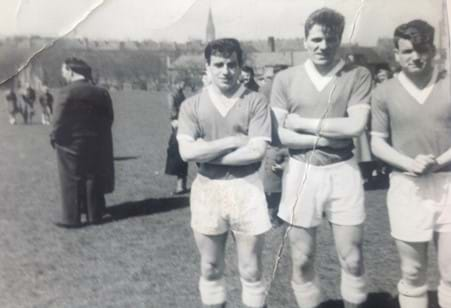 Three players, taken before the kick-off, are from left to right, Derry Wallace, Alan Marnoch (Thornton Hibs) and Morris Aitken (Dundonald Bluebell). Thanks to Derry Wallace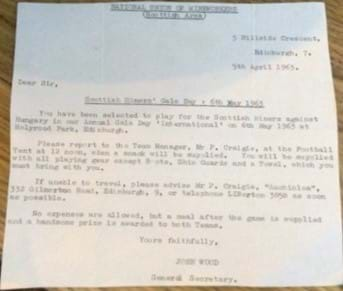 The selection letter sent by the NUM - Thanks to Derry Wallace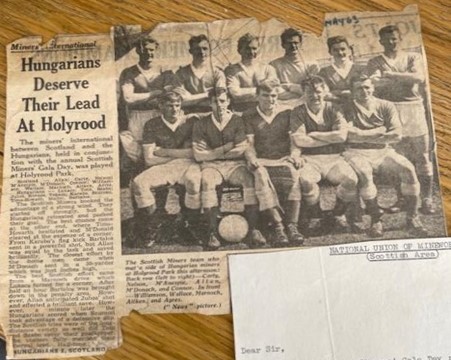 Thanks to Derry Wallace
The Scottish team was named as:
Back row (left to right)—Carty, Nelson, McAnespie, Allan, M'Donach and Connor.
Front row (left to right)—Williamson, Wallace, Marnoch, Aitken and Ayres.
Hers is how they lined up:
 

 

 

 

?

ALLAN

 

 

 

 

 

 

 

Gerard

CARTY

 

Joe

NELSON

(capt.)

 

 

 

 

Alex

McANESPIE

 

Tom

McDONACH

Tom

CONNOR

 

Andy

WILLIAMSON

Derry

WALLACE

 

Alan MARNOCH

Morris

AITKEN

Fred

AYRES
The Hungarian Consulate has confirmed that nine of the Hungarian team are still alive and I have suggested to the Consulate official that, if I am able to find any Scottish survivors, wouldn't it be unique to arrange a virtual meeting.
Bert ALLAN                       Bert Allan signed for Crossgates Primrose as a 15 year old in 1958, one week after Jim Baxter left to join Raith Rovers. He also played for Oakley United when working at Comrie Colliery and then signed for Stenhousemuir . Bert now lives in Lochgelly and is well known as a comedy artist.
Gerard CARTY                   Played right back for Fauldhouse United.  Coached a few junior clubs.  Lived in Whitburn.
Joe NELSON                       Started off at Coltness United and then a provisional signing for Raith Rovers.  During this time he was capped for Junior Scotland in 1957 against Northern Ireland.  He was released from Raith Rovers in April 1958 and reinstated as a Junior with Lochore Welfare.  He was later coach under Bert Paton at Dunfermline Athletic.  Joe was captain of this team against the Hungarian visitors and working at Comrie Colliery.
Alex McANESPIE               He played for Cumnock and then Craigmark Burtonians before signing for Ayr United in August 1964.  He returned to Cumnock Juniors in the 1978-79 season winning three Junior caps.  He went on to Irvine Meadow XI.  He returned to Cumnock as manager moving to Stranraer where he was manager from 1987 to 1996.  He returned to Junior management.  Alex was working at Littlemill Colliery at the time of the Hungarian game.
Tom McDONACH              Was playing for Thorniewood United. He has sadly passed away.  He was living at Birkenshaw, Uddingston.
Tom CONNOR                   Ended as coach and Manager of Bathgate Thistle.  Tom died a few years ago.
Andy WILLIAMSON          Played centre forward for Broxburn Athletic.  He was speedy and that is why he was probably selected to play outside right for the Scottish Miners team.
Derry WALLACE                He was playing for Thornton Hibs and working at Bowhill Colliery at the time.
Alan MARNOCH                Born in Smeaton, Kirkcaldy.  Signed from Thornton Hibs in 1962 by Dunfermline Athletic manager Jock Stein.  Alan received £20 and Thornton Hibs £80.  He played in the reserve team in 1962-63 as a centre forward.  He never played in the first team in 1963-64 and was released but there is no evidence of him returning to the Junior ranks before emigrating to Australia.  He captained Australia in the late 1960's against Scotland.  He had a newsagency in the Sydney suburb of Dee.
Morris AITKEN                  Signed for East Fife from Dundonald Bluebell.  He later played for Stirling Albion and Alloa Athletic.  He was working at Valleyfield Colliery.
Fred AYRES                        Sadly no longer with us.  Played for Dalkeith Thistle and worked at the Lady Victoria.  Managed a bus company after leaving the mining industry.
I have made contact with Derry Wallace and Morris Aitken who both live in Fife.  I was told Alex McAnespie now lives in the USA with his family.
The team manager was Peter Craigie who was a long-serving secretary of the East of Scotland Junior Football Association.  I understand that Newtongrange Star FC probably helped the team and may even have lent them their kit.