History of Junior Cup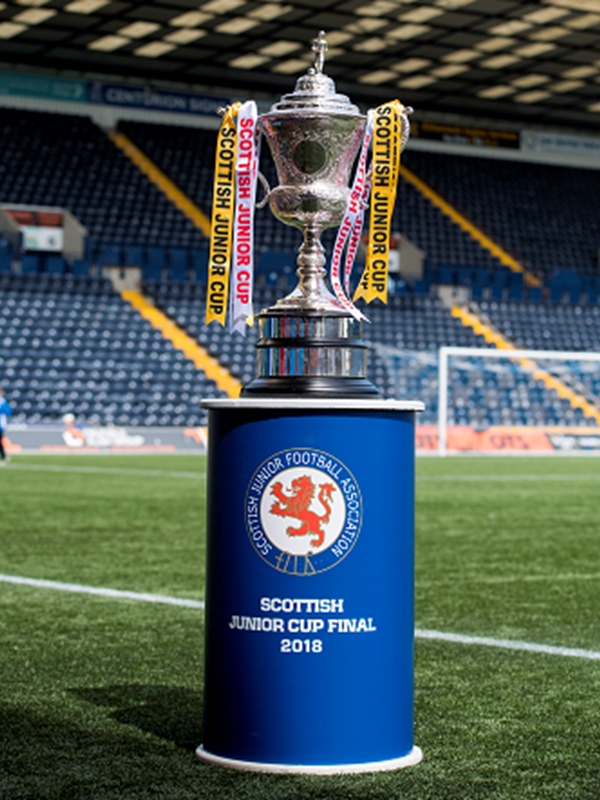 The Scottish Junior Cup is the "Holy Grail" of Junior football. It is contested on an annual basis amongst the 160 plus Junior clubs on a knock-out basis.
The Scottish Junior FA was instituted on the 2nd October 1886 with 39 clubs entering the first tournament under its auspices in 1886-87. Two long since defunct clubs contested the first final in 1887 - Fairfield defeating Edinburgh Woodburn 3-1 at Argyle Park Govan. This season's entry was 164 but the record entry was in 1922 -23 when a staggering 412 clubs set out on the long trail which that season led to Tynecastle. Around 20,000 witnessed an all-East final in which Musselburgh Bruntonians defeated Arniston Rangers 3-0.
The record attendance at a Scottish Junior Cup Final was in 1951 when Petershill beat Irvine Meadow in front of 77,650 spectators. The gate receipts totalled £6,381. The following season 69,959 attended the Kilbirnie Ladeside - Camelon Final.
The 1977 final between Kilbirnie Ladeside and Kirkintilloch Rob Roy was televised live - the first time for a Junior Cup Final.
The 2000 Final was the first time the destiny of the trophy was decided on penalty kicks. Having finished 2-2, Whitburn who had also won through their semi final against Benburb on penalties held their nerve to eventually triumph 4-3 against Johnstone Burgh in the penalty shoot-out.
In the Association's Centenary Year, 1986, the Cup was won by Auchinleck Talbot who beat Pollok by three goals to two. They then went on to complete the "hat trick", beating Kilbirnie 1 - 0 the following year after a 1 - 1 draw, and in 1988 beat Petershill by one goal to nil - the first club to win the Cup in three successive seasons. They have now won the Cup on a record 7 occasions.
Arguably the 70's was the era of Cambuslang Rangers - appearing in five finals in a six year period - winning four of them but going down 1 - 0 to Irvine Meadow after a 3 - 3 and 2 - 2 draw in 1973.
This season will see the Scottish Junior F.A. purchase a replacement Cup. An identical replica of the existing cup, which is now starting to show signs of wear and tear after a hundred years of all sorts of beverages being sampled from it on Cup Final day - and beyond.
The present trophy is not the original one : research shows the original trophy which was in existence for eleven years - the last club to receive it being Strathclyde in 1897 - was presented to the Association by an Edinburgh businessman, Percival King, and the trophy was originally the King Challenge Cup.
The present Junior cup was purchased on 7 August 1897 and it cost £50 - slightly less than the recently ordered replacement!