Luncarty FC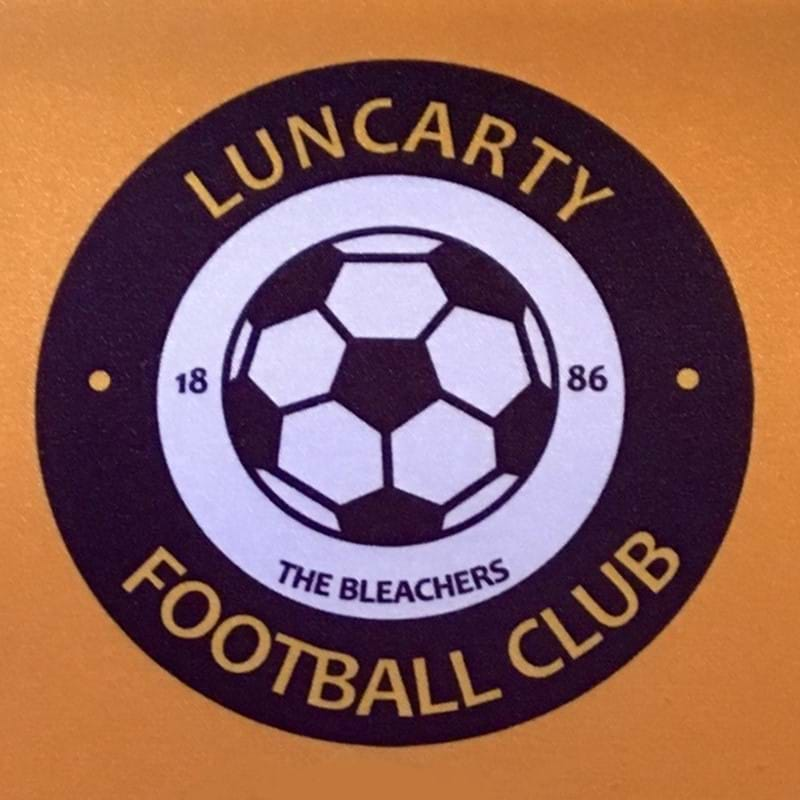 It's hardly Celtic-Rangers, and definitely not Auchinleck-Cumnock but football's forgotten derby still has the power to stir the passions.
In the world of explosive local contests, the Tayside clash between Luncarty and Bankfoot Athletic has, historically, been something of a damp squib. Apathy in that area of leafy Perthshire countryside even saw the Luncarty team fold in the late 1990s. However, the "Bleachers" recent revival, together with Bankfoot's controversial decision to field Alan Dinnie, formerly of Partick Thistle, Dundee and Barlinnie Prison, has added spice to the encounter.
"The last time we played Bankfoot we had quite a big crowd," said Luncarty's young manager, Shaun Ewart. Two or three hundred? "Oh, nothing like that, but when you looked up there was a few folk up there on the banking.
"There was a lot of passion in the game; no one held back with the challenges. We drew 1-1 but we should have taken them by five for six. And because both teams have a lot of local guys playing for them, there is a real desire to win. Then there's the added factor of Alan Dinnie, who's let out of Castle Huntly open prison in Dundee each Saturday to play. That spurs our lads on as well because they know they're playing against someone who has been a decent player. We try and get him wound up a bit."
And, no, in case you're wondering, he didn't say "take no prisoners". Ewart has been in charge at picturesque Brownlands Park since Luncarty emerged from a season in cold storage five years ago. The first season saw them finish bottom of the Tayside League's second division without winning a game. There were signs of improvement in Season Two but they still finished bottom. Then it was third bottom.
"We were mid-table last season and now we're sitting at the top of table," said Ewart, who is a former player, and remembers better days. From being in abeyance for a season, we've come a long way in a short period of time, but unless we turn this team into a championship side, I'll know we've failed. The players we have here now have the potential to win the league and, if we don't, then there is a danger of the good players drifting away."
Ewart and assistant Stevie "Bob" Nairn acknowledge the loyalty of players like skipper Alan "Alfie" Williams, team captain Peter Gormley and rising stars Chris Dudek and Alexander Whytock. However, they are realistic enough to recognise that if progress stalls, players will look to advance their careers elsewhere. The manager knows the long-term security of the club - which, strangely, receives no financial help from the adjoining social club - rests on it being a selling club.
"We will always look to make money by selling players on to bigger clubs but, unless we're up at the top of the league challenging, we won't be able to attract new players. If we go back to a situation where we're losing week-in, week-out, and only winning the odd game, we'd be struggling, and back where we were five or six years ago."
All eyes are on ambitious Perth side Kinnoull, whose promotion to the Whyte and Mackay East Super League would boost the profile of Junior football in the area as a whole. "Kinnoull would be able to attract better players and, hopefully, we would be able to pick up any that they let go," added Ewart.
While Luncarty can boast league and cup wins in their history, and former Rangers and Hearts favourites Alex MacDonald among their former players, heavy defeats - and we're talking double-figures here - are, sadly, all too recent. So, with perennial whipping-boys RAF Lossiemouth also on 36-year-old Ewart's playing CV, one might suggest he is a glutton for punishment.
"I'm very committed to Luncarty," he insisted, quick to point out that he was a player under successful reign in the 1990s under boss Dave McCaw."I've had opportunities to move to other clubs with money but I've turned them down. I like the atmosphere at this club. I'm not saying I've built is back up from nothing, but I've had a big hand in it. There is a big sense of achievement and satisfaction for me. I gave myself five years to turn the team around and, hopefully, this season will bear the fruits of the hard work. I don't to walk away; I want to take the club onto the next level. Being realistic, don't know how far that can be. But, at the end of the day, If you don't have teams like this, football is nothing."
"If you are involved in a team like Luncarty, it's about the local people seeing you as their team, being reasonably successful, and holding your own."
That and beating Bankfoot twice a season.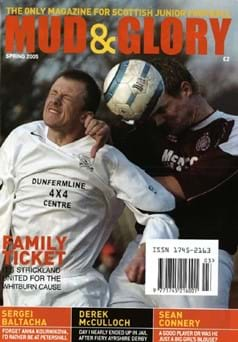 First Published in Mud & Glory, Spring 2005.