Jim Sinnet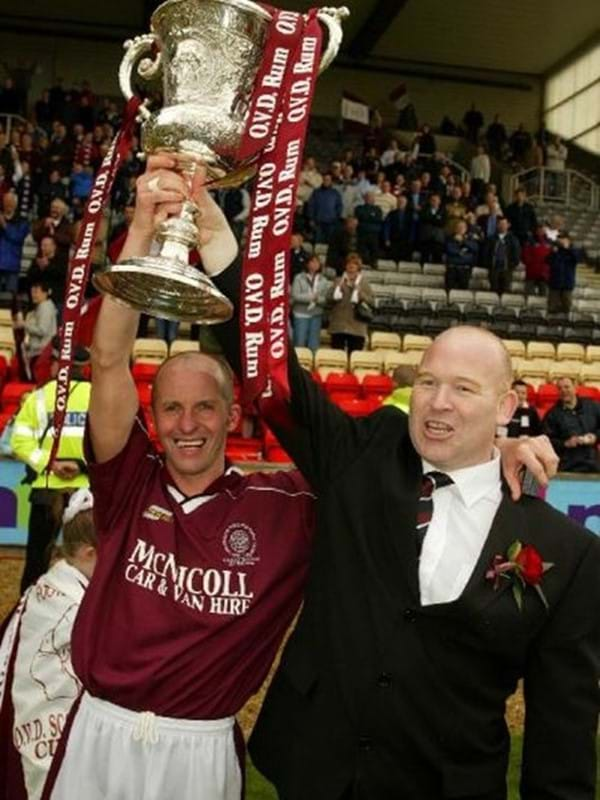 Jim Sinnet is not the sort of man to be messed about. Ask him a straight question and he promises you a straight answer.
He's forthright, opinionated and fiercely driven, with a confidence in his abilities that others may see as arrogance. Even so, when trying to determine where the Linlithgow Rose boss sees himself in Junior football's management Hall of Fame, you expect maybe a moment's hesitation. Actually, on second thoughts, if you know Jim, you don't.
We're chatting about Willie Knox, the all-conquering boss of Auchinleck Talbot in the 1970s and 1980s, and wondering who has stepped into his shoes as the greatest manager of the present era. I suggest Dennis Gray, or maybe Jim O'Donnell, or Jock Finlayson. What about Dave Baikie, the manager of a remarkable Tayport side who beat Linlithgow to the East Super League title on goal difference?
Sinnet doesn't suggest anybody else. "I think I'm the best," he said. And answers really don't get much straighter than that. On the face of it, he has a point. Before taking over at Prestonfield at Christmas 2000, Sinnet had led Benburb to the semi-finals of the Scottish Cup and their first Central League title in 100 years. Prior to that he had also taken Blantyre Vics to the last four of the Cup.
This season, Benburb were relegated back into Division One of the Central District League; Vics can't get out of Division Two.
"It's never nice to see your old clubs struggle but I must have done something right when I was there," said Sinnet. "Since I've been at Linlithgow, I've won 12 trophies, and I don't think anyone will beat my record of six trophies in one season; not when you consider it included the Scottish Junior Cup and the League Championship.
"You've also got to consider that being manager of Linlithgow Rose is being different from being manager of other clubs - you've got to be successful right away. As far as I'm concerned, it's the biggest Junior club in Scotland, and the fans demand success.
"Davie Roy (Rose's long-serving secretary) was telling me that in the 45 seasons he's been involved with the club, there's only been three that they haven't won anything. We had two cup finals to go when he told me that. We had just lost two and, looked like losing the league on goal difference. There's nothing like putting someone under a wee bit of pressure!"
As a player, Sinnet won the Junior Cup with Bo'ness United and went on to play under legendary managers like Ally McLeod at Ayr United and Dick Campbell at Cowdenbeath, and the late Torquay boss Cyril Knowles.
"Throughout my working life, I've never been a boss. I've always worked for someone, so I don't have that sort of experience of man-management," he said. "I suppose you just have to say you've either got it, or you don't.
"I've picked up a lot from the likes of Ally, Dick Campbell and Archie Rose at Stenhousemuir. It's all about learning how to handle different types of players, how to talk to them, and how to get the best out of them."
As a player, you wonder if Sinnet was a manager's nightmare. Supremely skilful but enigmatic, he had an eye for goal and a word for referees.
"You never know exactly how things are going to work out for you when you go into management but I have to say that everything that I've achieved so far is more than I could have dreamed of. The Super League's been great for me because it's given me a chance to test myself against other good managers every week. As a next step, I'd love to see all the top teams in Scotland playing in the same league. I think then it would become an even bigger test than the Scottish Cup.
"At the moment, there are too many meaningless cup competition and we shouldn't have got into a situation like this season, where we'd finished all our games and Tayport had three left. They knew what they had to do, and how many goals they had to score, against teams who had nothing left to play for.
"It's not sour grapes. We had a chance to beat them in our last game at home, and we didn't. That's the way it goes. It just makes us even more determined for next season."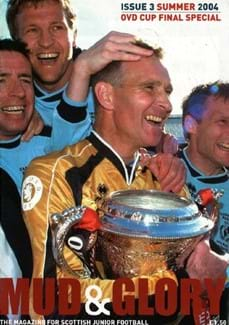 First published in Mud & Glory, Summer 2004.