Culter Honours 50 Years of Service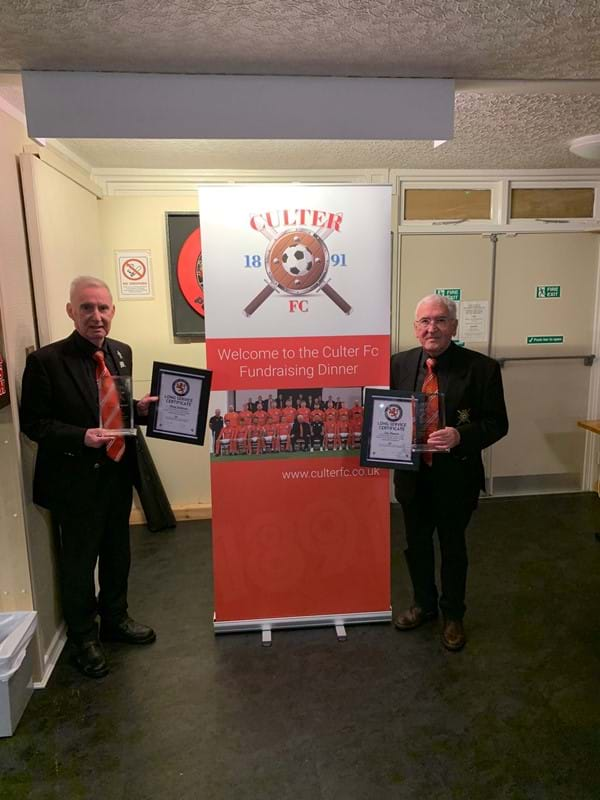 Culter FC club legends, Eric Duncan and Doug Jamieson, were presented with awards for their 50+ years service to the club. The awards, acknowledged and provided by the SJFA, were presented by Club President, Gordon Thomson at a club social evening at the Culter Mill Club.
The awards are symbolic of the indebtedness that everyone associated with Culter Football Club has for these two legends.
Doug and Eric have taken the club through the amateur ranks and into the Junior Leagues, making the club one of the most successful Junior Clubs in the north of Scotland and respected throughout all of the other regions.
Their loyalty, hard work, endeavour and dogged tenacity, whether as players on the pitch, committee members, fund raisers or simply representing all that is good with the club, Eric and Doug have earned every recognition that comes their way. Both Doug and Eric have acted in practically every position that can be held in the club and both are Past-Presidents and are still active in the running of the club.
Culter Football Club, again wish to pass on their thanks to these two gentlemen for their service and hope to call upon their expertise for a long time yet.