Former U18 Schools' Internationalists
Wednesday, 22 February 2012
With the 2012 Centenary Shield competition about to get underway it is interesting to look back and highlight the success of former U18 schools' internationalists in the professional game.
From the last three years alone something like 16 boys are currently listed in first team squads, many of them regular starters for their respective clubs. The players are:
2011 Alan Urquhart (Queen's Park), Nicholas Devlin (Motherwell), Tom O'Ware (Morton), Alan Lawson (Stenhousemuir)*, Stuart Love (Stenhousemuir), Owen Ronald (Queen's Park)
*Alan Lawson is in the International squad again for 2012.
2010 Alan Urquhart (Queen's Park), Martin Boyle (Montrose), Daniel Orsi (Queen of the South), Alan Cook (Stirling Albion), Daly McSorley (Stirling Albion), Andrew Hunter (Stirling Albion), Michael Hunter (East Stirlingshire)
2009 Ross Laidlaw (Raith Rovers), Steven Black (Queen of the South), Daniel Fitzpatrick (Clyde).
Looking further back to the year 2000 it is important to note the Schools' U18 international players who have gone on to represent Scotland at different levels. Players such as:
Stephen Pearson (2000) - currently at Bristol City and with 10 Scotland caps.
Lee Miller (2000) - scoring freely at Carlisle. Gained 3 full caps for Scotland.
Andrew Barrowman (2001) - Dunfermline's main striker who gained 2 U19 caps.
Tom Brighton (2001) - currently at Queen of the South. Tom gained 6 U21 caps.
Scott Brown (2002) - Celtic's captain and with 27 Scotland caps.
Jamie Barclay (2006) - Berwick Rangers and Scotland U21s.
Steven Saunders (2008) - Motherwell and Scotland U21s. Played at Wembley in opposition to Chris Smalling now at Manchester United and an English internationalist. 1 full Scotland cap.
Going even further back into the archives the following U18 Schools' internationalists continue to work in football as high profile coaches and managers:
Craig Brown (1957 and 1958) - Aberdeen manager and probably the most successful manager of Scotland.
Sir Alex Ferguson (1958) - Manchester United and Aberdeen. Described as the most successful manager in the history of the game.
Andy Roxburgh (1961) - very successful Scotland manager and highly respected Technical Director of UEFA.
David Moyes (1980) - manager of Everton.
Billy Davies (1980) - formerly manager at Derby, Nottingham Forest, Preston and Motherwell but currently between posts.
Kenny Black (1980) - assistant coach at Motherwell and with Scotland.
Eric Black (1980) - assistant coach at Blackburn. Formerly with Sunderland and Birmingham.
How many of this year's squad will continue at a professional level in the game?
TOM O'WARE in 2011 above, now with Greenock Morton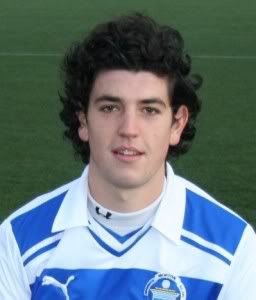 ALAN URQUHART in 2011 above, now with Queen's Park

MICHAEL HUNTER in 2010 above, now with East Stirlingshire

OWEN RONALD in 2011 above, now with Queen's Park

Information above correct as of February 2012.

Club photos courtesy of Greenock Morton, Queen's Park and Craig Brown of East Stirlingshire.


<< Back